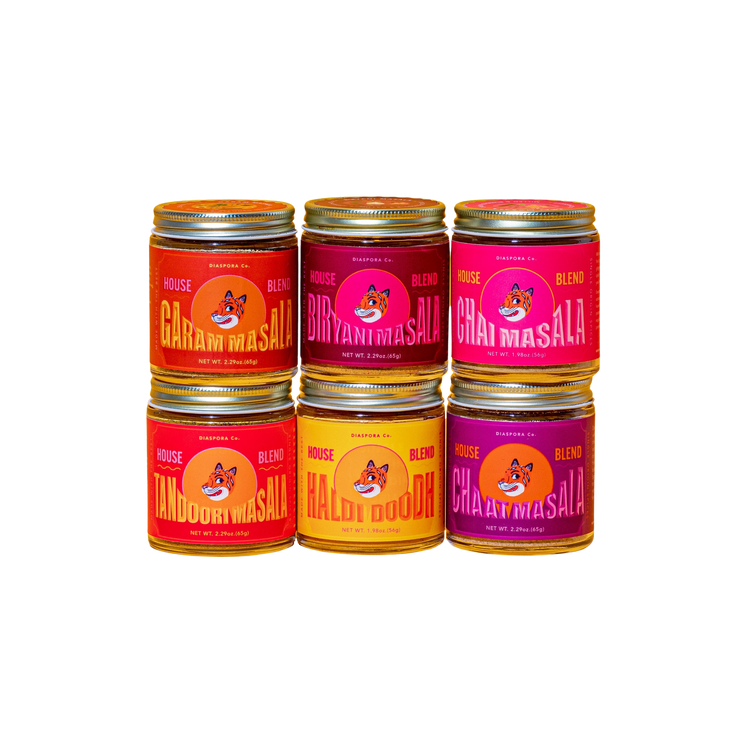 1 of 1
Diaspora Co.'s Masala Bundle
$90
Diaspora Co.'s Masala Bundle
Diaspora Co tasted and tested every masala (spice blend) on the market and the truth is, most of it sorely lacked flavor. After years of sourcing from small, regenerative family farms and more R&D than they ever thought possible, Diaspora's masalas are here to do better by their community and the diaspora. Contains all six of Diaspora's house-blend masalas — Chai Masala, Haldi Doodh, Tandoori Masala, Chaat Masala, Garam Masala, Biryani Masala.
This item is a pre-order and will ship in early November.
Fulfilled by Diaspora, Co.; please note this will ship separately but at no additional fee. Additionally, pantry items do not apply towards the free shipping minimum.
Contains all six of Diaspora's house-blend masalas:
Chai Masala: 56g, Diaspora's dream blend: rich in cardamom and ginger, sweet with fennel and cinnamon, and spicy with a touch of pepper and cloves.
Haldi Doodh: 56g, Use this blend to make the most delicious and well-rounded haldi doodh you've ever tasted.
Tandoori Masala: 65g, Whether involving a traditional tandoor (clay oven) or a good old grill, this mouth-watering blend is made to play with smoke and fire.
Chaat Masala: 60g, This sour, mouth-puckering blend is the star ingredient at roadside chaat stalls across South Asia. It can be sprinkled on top of cut fruit, used to rim a cocktail glass, added to brighten up a chutney, or stirred into seltzer. Garam Masala: 60g, The ubiquitous garam masala elevates just about any dish with its signature complexity, versatility, and heat.
Biryani Masala: 60g, This masala makes the most beautifully aromatic biryani! Whether it's classic Hyderabadi, Malabari prawn, or your secret family recipe, Diaspora has made a masala that acts as your foundation but is made to be played with and built upon.